A to Z Guide On How To Migrate From WooCommerce To Shopify
Table of Content:
Step 1: Decide the most optimal way to migrate from WooCommerce to Shopify.
Step 2: Set up your Shopify store
Step 3: Back up your WooCommerce store
Step 4: Migrate data from WooCommerce to Shopify with LitExtension
Tutorial Video
Conclusion
Shopify and WooCommerce are the two leading solutions for building e-commerce websites. They both come with a variety of powerful and handy features but each is more suitable for the different needs of merchants. As a result, you need to research and test carefully to choose the best platforms for you. For an in-depth comparison between these two giants, take a look at this WooCommerce vs Shopify analysis.
If you're reading this article, you must be considering making a switch from WooCommerce to Shopify. And yes, I'm going to walk you through an A to Z guide on how to do it.
Don't wait any longer, let's get started!
Step 1: Decide the most optimal way to migrate from WooCommerce to Shopify
Currently, there are 3 ways to migrate from WooCommerce to Shopify. Before jumping into a step-by-step instruction, let's analyze a bit and decide which way is the most optimal.
The 3 ways are:
Manual migration: Export and import manually
Hire a web development agency or freelancer
Use an automated shopping cart migration solution (In this case, we will take LitExtension as an example because it is the most popular at the moment)
Now, let's examine the pros and cons of each option:
PROS
CONS
Manual migration

Security: As you will export and import data files yourself, there is no way your data can be leaked outside.
DIY solution will not cost you any money.

It takes a lot of time and effort
High chance of unexpected errors and more time on fixing if you do not have a deep understanding of the two platform's database structure
No support from experts

Hire a web development agency or freelancer

Since you hire someone to take care of the migration for you, you will save a lot of time and effort
You will have support whenever a problem arises

Cost you a lot of money. Normally, the cost of hiring a web agency or freelance fluctuates from $50-$80/hour
You can't control the migration progress
Rarely can a web agency or freelancer understand 100% data structure of both platforms, which results in several errors relating to data and table structure. As a result, the migration will take more time, which means you have to pay more money.

Use an automated shopping cart migration solution

Only takes 3 simple steps and a few hours to complete the migration.
The solution is created by data migration experts who understand the structure of the most popular shopping carts in the market today
Save time and money: The solution is automated so you can operate the migration quickly at an affordable price, which starts from $49 only.
The solution can migrate almost every data (orders, customers, products, and other related entities) from WooCommerce to Shopify.
You can control the progress in both your migration interface and via email.
Professional support from experts: 24/7 support by ticket, phone, live chat, or email.
High security: The solution is automatic and needs your permission to access your database. It will immediately disconnect from the source site after getting the only data you requested to migrate.

Unexpected errors may still happen at times, however, the chance is slim and LitExtension has an enthusiastic and professional support team who are 24/5 active to help you deal with them.
After this analysis, I can conclude that using an automated shopping cart migration solution is the easiest, fastest, and most affordable solution. Therefore, I will now show you the whole process of moving your store from WooCommerce to Shopify with the help of LitExtension's automated solution.
Step 2: Set up your Shopify store
To perform a migration, of course, you need a target store set up in advance. To start using Shopify, all you need to do is sign up for an account.
Go to the Shopify website, and click "Start Free Trial". After that, fill in your desired email address password, and store name.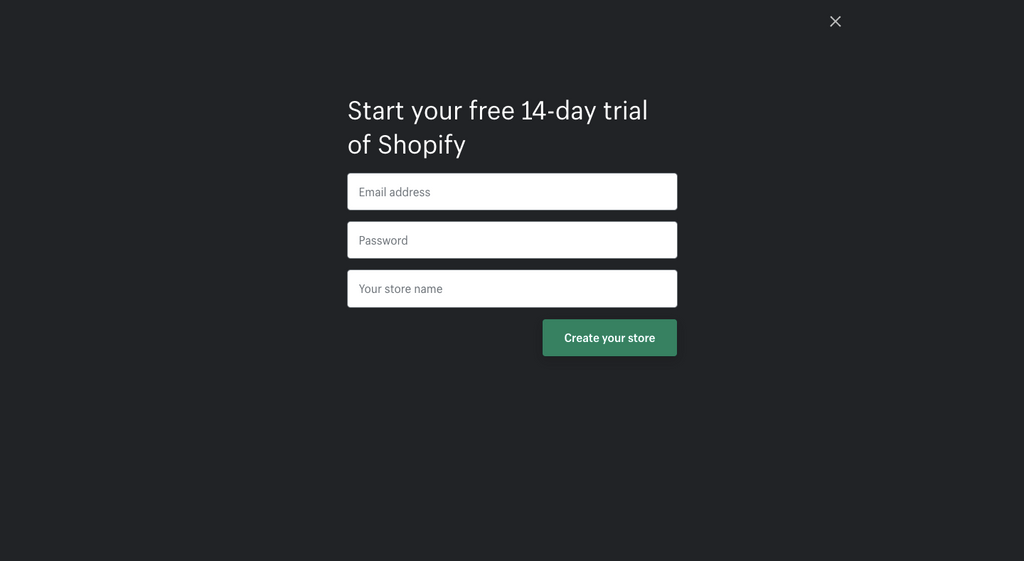 Please note that you will need to choose a unique store name, otherwise Shopify will not allow you to purchase the domain.
Then click "Create your store", you will then be asked to tell a little about yourself and your business.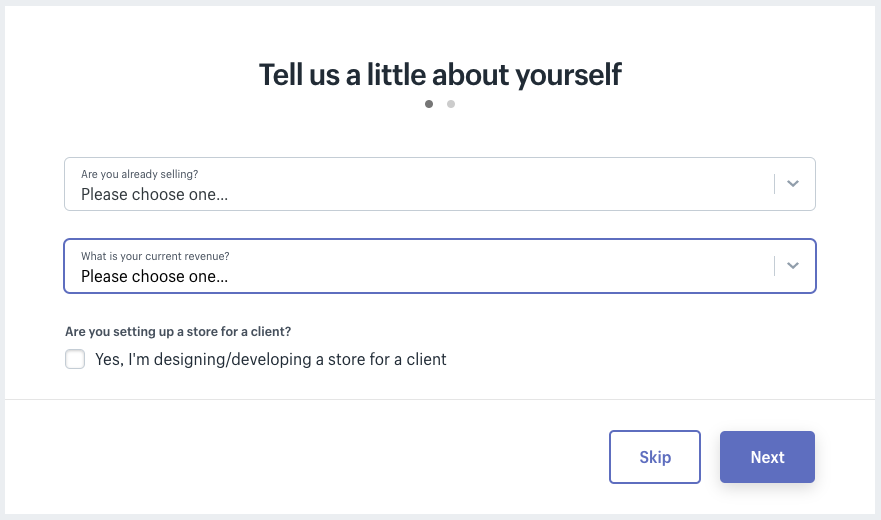 Click "Next" when you finish, the following page will ask you to fill in personal information such as your name, address, and phone number, all of which is used to configure currencies and tax rates.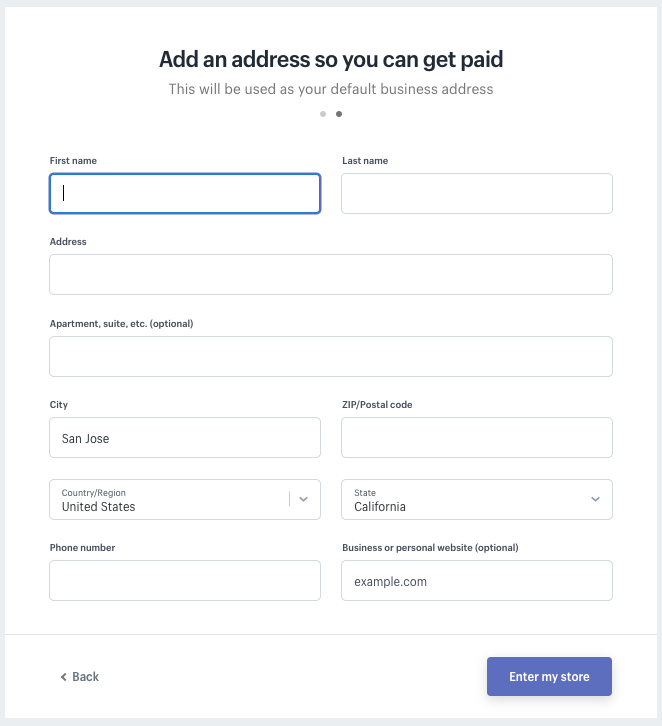 Click on the "Enter My Store" button, you will be navigated to the admin screen for your new website.
Check out this article to get a review about Online Shopify Store
Step 3: Back up your WooCommerce store
Data on your source store will stay unchanged before, during, and after the migration with LitExtension. However, I strongly suggest you backup everything before you perform any major changes.
There are 3 ways to backup data on the WooCommerce store: Manual backup, backups via your Web Host, and backups using WordPress plugin. You can see detailed instructions here.
Step 4: Migrate data from WooCommerce to Shopify with LitExtension
It only takes you 4 simple steps and a few hours to perform a migration with LitExtension.
Side Note: Watch the video tutorial on how to migrate WooCommerce to Shopify. Click here.
1. Create a LitExtension account
Register an account or Sign In on the LitExtension site. You can also log in easily with your existing Google or Facebook account.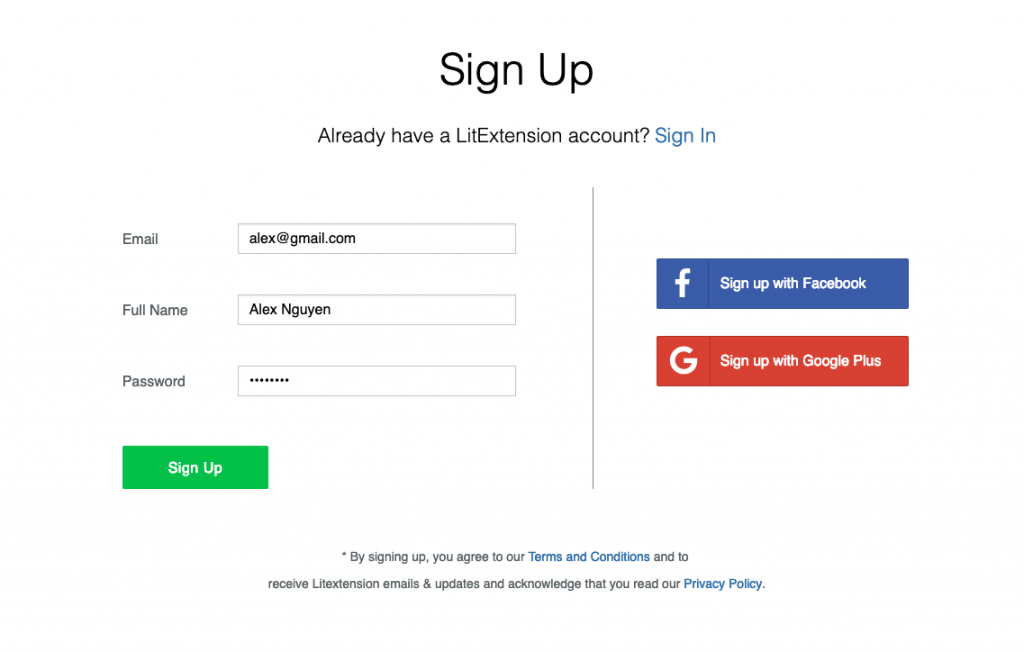 2. Enter WooCommerce store information
On the Migration Page, click Create New Migration at the top right button on the screen. Select WooCommerce as your Source Cart Type and fill your store's URL into the blank.
Then click LitExtension Connector to download the connector, extract the zip file, and upload the connector to WooCommerce's root folder.

Right here, the Connector Installation will be automatically checked and informed on the screen without manual checking.
3. Enter Shopify store information
Select Shopify as Target Cart Type and provide the source store's URL in the blank bar. Follow the brief instruction to get your API info and fill them in the form.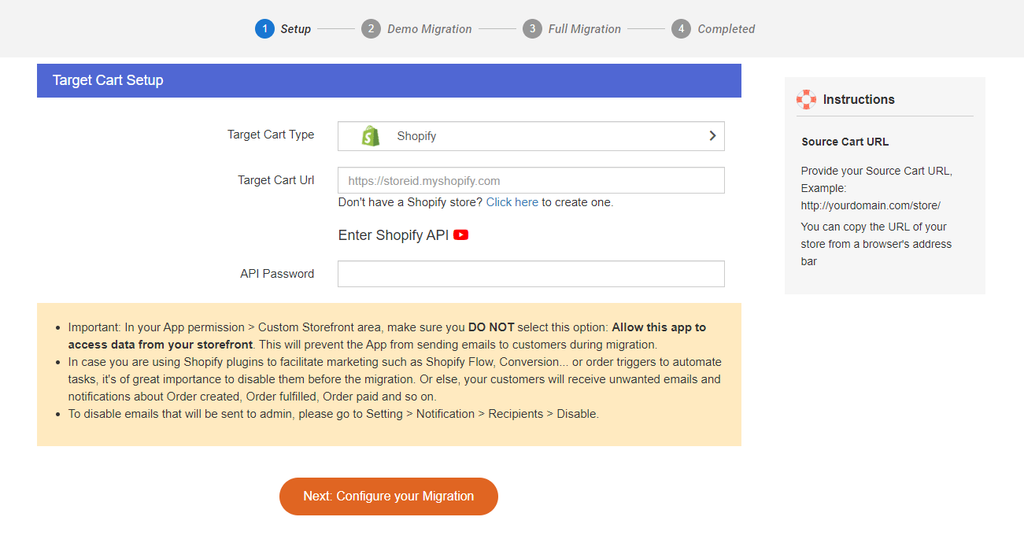 4. Select entities you want to migrate
Choose entities you want to migrate. You can select either all of them together or certain data. For example, only Products, Customers, and Orders.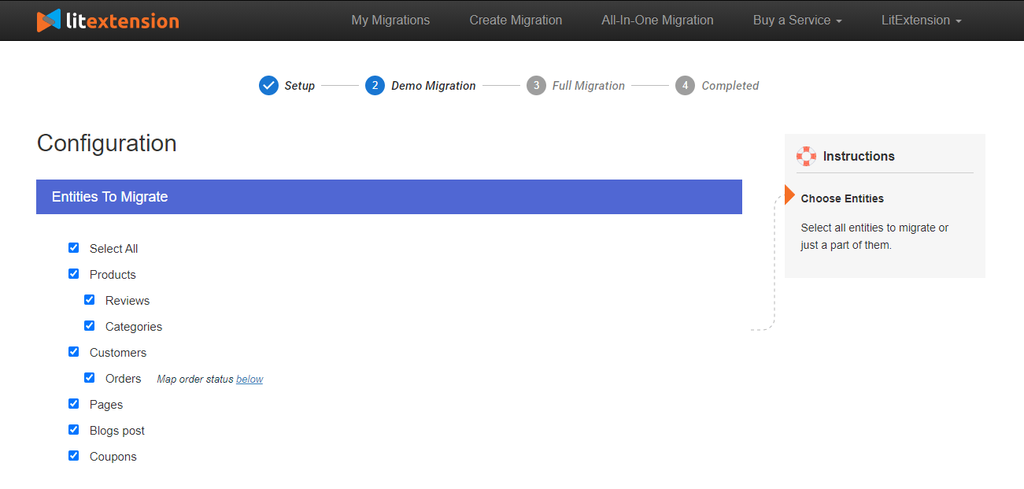 Besides, LitExtension provides some additional options to extend your migration possibilities such as creating 301 redirects or preserving order IDs… In the next sections, languages, order statuses, and customer groups will be matched together to be displayed correspondingly in the new Shopify store.
5. Perform Migration from WooCommerce to Shopify
After you finish configuring your migration, you can try LitExtension free demo first to check whether the platform will work as you expected. Or else, you can skip it and run full migration from WooCommerce to Shopify immediately.
Try Free Demo: Start your demo migration with a limited number of entities
Perform Full Migration: Click on the "Skip Demo Migration" button to perform full migration immediately.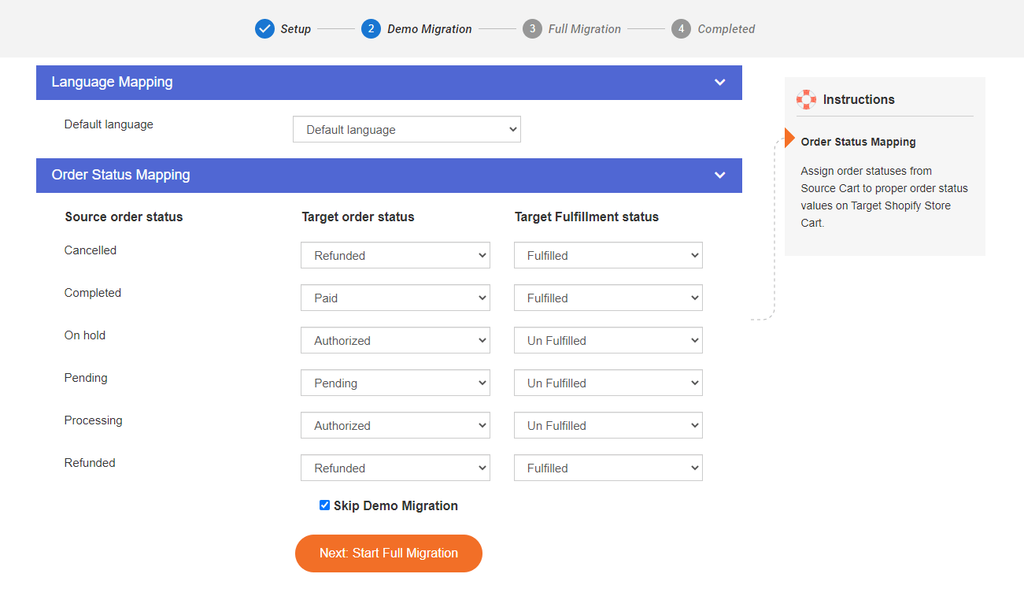 When running migration with LitExtension, you don't need to leave your browser or internet working. Just turn off everything or do other tasks, when the migration is complete, you will receive an email from the LitExtension system.
After the migration, you can follow this checklist to finish setting up the Shopify store. There are 6 tasks you need to do:
Check if your data has been migrated correctly
Design and set up the Shopify store
Change DNS and switch domain
Set up your shipping
Establish payment methods
Try placing some orders
Read the checklist for detailed instructions!
Conclusion
Re-platforming is a complicated and very important process that needs to be taken care of carefully. This process can be tedious or pleasant depending on which way you do it. Therefore, I highly recommend you go with LitExtension to save your time, money, and effort.
Currently, PageFly and LitExtension are cooperating so that we can bring you, our customers, the best experience when building your business with Shopify. Therefore, if you are a PageFly user, you can enjoy 20% OFF for LitExtension services. Contact us for the discount code if you are planning to make a switch to Shopify!
In summary, this article has provided you with a step-by-step guide and resources that you need before, during, and after the switch. I hope that it can help you plan and execute the migration from WooCommerce to Shopify more easily and accurately.
This is the guest post contributed by Katie Nguyen from Liextension Team.
Katie is dynamic, hard-working, and ambitious are the best words to describe me. I love traveling to learn and share my experience and knowledge.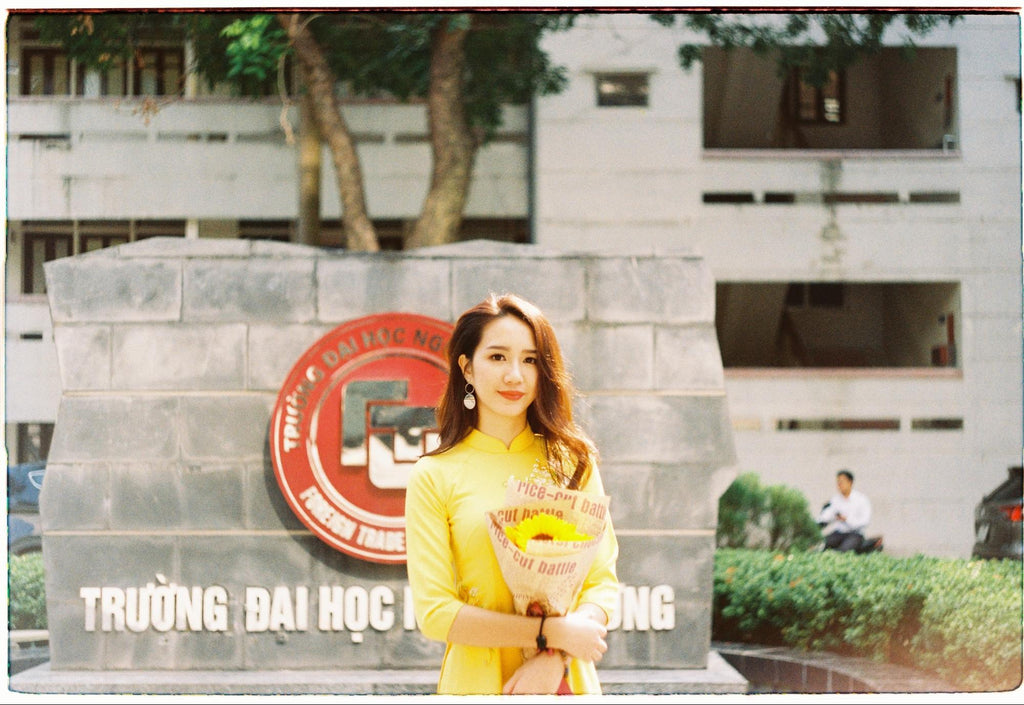 Credit: https://pagefly.io/blogs/shopify/how-to-migrate-woocommerce-to-shopify