Magic Needles Website Case Study
Industry

Cookware & Kitchenware
Services

Offers a wide range of premium cookware products from saucepans and casseroles to pressure cookers and spice boxes
The Objective.
Magic Needle wanted to redesign its website with a more elegant, colorful, & realistic visual style, to increase overall website performance, and make it easier for customers to Buy the products. We collaborated with them to rebuild their Shopify e-commerce site so that it better reflected their brand, converted people to customers, and performed better overall.
Unique Problems to Solve.
Visually Differentiation
This sector is competitive, and as a result, manufacturers frequently struggle to distinguish themselves. So, we needed to build a design that had uniqueness and was consistent with other websites. The website sells the product how it is shown exactly in the image there is no difference in color or material. This differentiates the Magic Needle from others.
Maintaining Lightning Speed
Ecommerce websites tend to have a lot of bloats, and Magic Needle conversion rates were suffering because of it. We needed to deliver a dynamic experience but keep page load times at a bare minimum so that the customers can have a seamless experience.
What we did
Digital Strategy
UI/UX Design
Content Strategy
Platform
Shopify
Homepage.
The homepage features a color that showcases the products as well as Magic Needle branding. The webpage uses vibrant colors that complement the product photos. The homepage's product images scroll to display more product details as well as a combination of the product and its images. The Hand Knitted product is showcased on the home page. The website has an option for a Gift card which the customers can buy and send it to their close ones in case they are not sure what to send. The quick view option enables the user to see a glimpse of the product.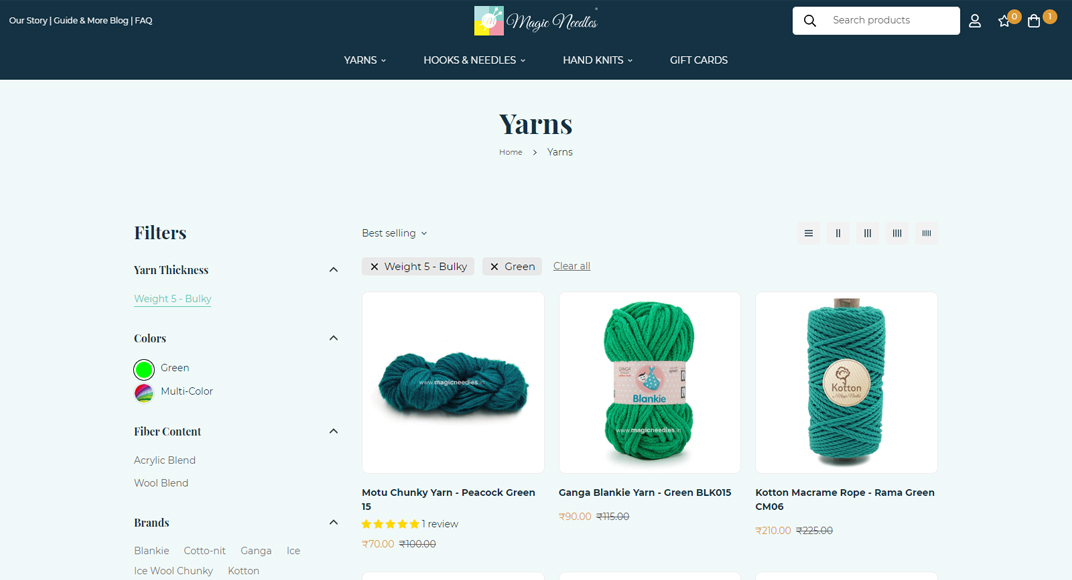 Website Navigation
The site navigation is simple, making it easy to access each product page depending on client needs such as Scarves & Wraps, Caps and Beanies, Bandanna, and so on.
Product Page
Each product page highlights the product in a simple and catchy manner by using icons to show the details like the material of the product, size, and much more. (Truly Instagram-worthy!) The images used are a combination of lifestyle and product images. Discounts are given on bulk orders. Reviews are also included for customers to read and find out which product is just right for them! The product doesn't burden the customers with the all information together, it only shows what the customers need to see.