NanoNine Website Case Study
Industry

Cookware & Kitchenware
Services

Offers a wide range of premium cookware products from saucepans and casseroles to pressure cookers and spice boxes
The Objective.
Nanomine wanted to redesign its website with a more uniform and smart visual style, to increase overall website performance, and make it easier for customers to subscribe to products. We collaborated with them to rebuild their Shopify e-commerce site so that it better reflected their brand, converted people to customers, and performed better overall.
Unique Problems to Solve.
Visually Differentiation
The kitchenware sector is competitive, and as a result, manufacturers frequently struggle to distinguish themselves. So, We needed to build a visual design that had uniqueness while remaining clean and consistent with other kitchenware websites.
Maintaining Lightning Speed
Ecommerce websites are usually bloated, and Nanonine conversion rates suffered as a result. We needed to provide a dynamic experience while keeping page load times as short as possible.
What We Did
Digital Strategy
UI/UX Design
Design and Development
Web Development
Content Strategy
Copywriting
Shopify
Homepage
The homepage features a color that showcases the products as well as Nanonine's branding. The webpage uses vibrant colors that complement the product photos. To demonstrate the product, animations are often used. The homepage's product images scroll to display more product details as well as a combination of the product and its images.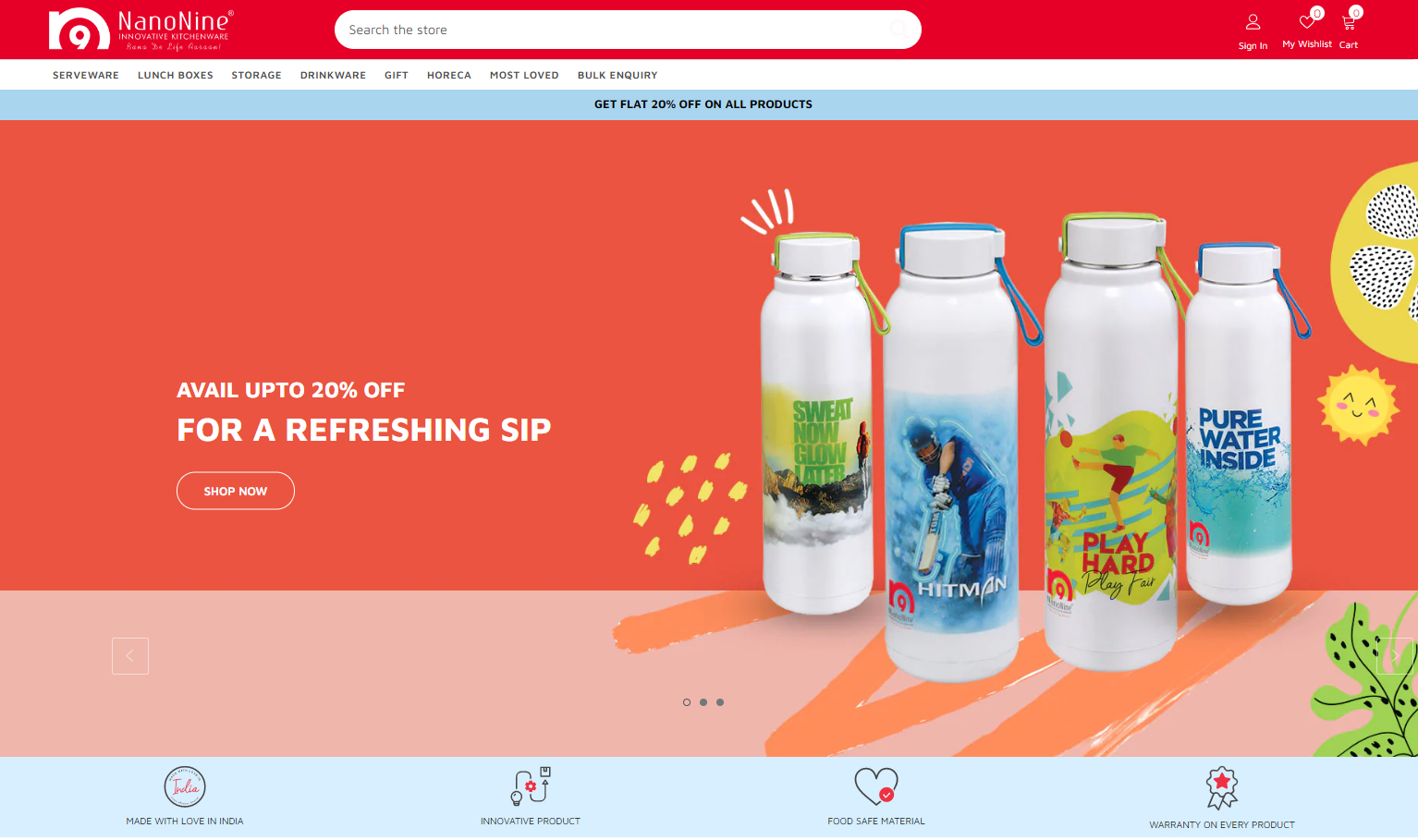 Website Navigation
The site navigation is simple, making it easy to access each product page depending on client needs such as best-selling products, tiffin collections, water bottles, and so on.
Product Page.
Each product page highlights the product satisfactorily. (Truly Instagram-worthy!) The images used are a combination of lifestyle and product images. The product page also allows users to find the size of the product they are looking for. Reviews are also included for customers to read and find out which product is just right for them!