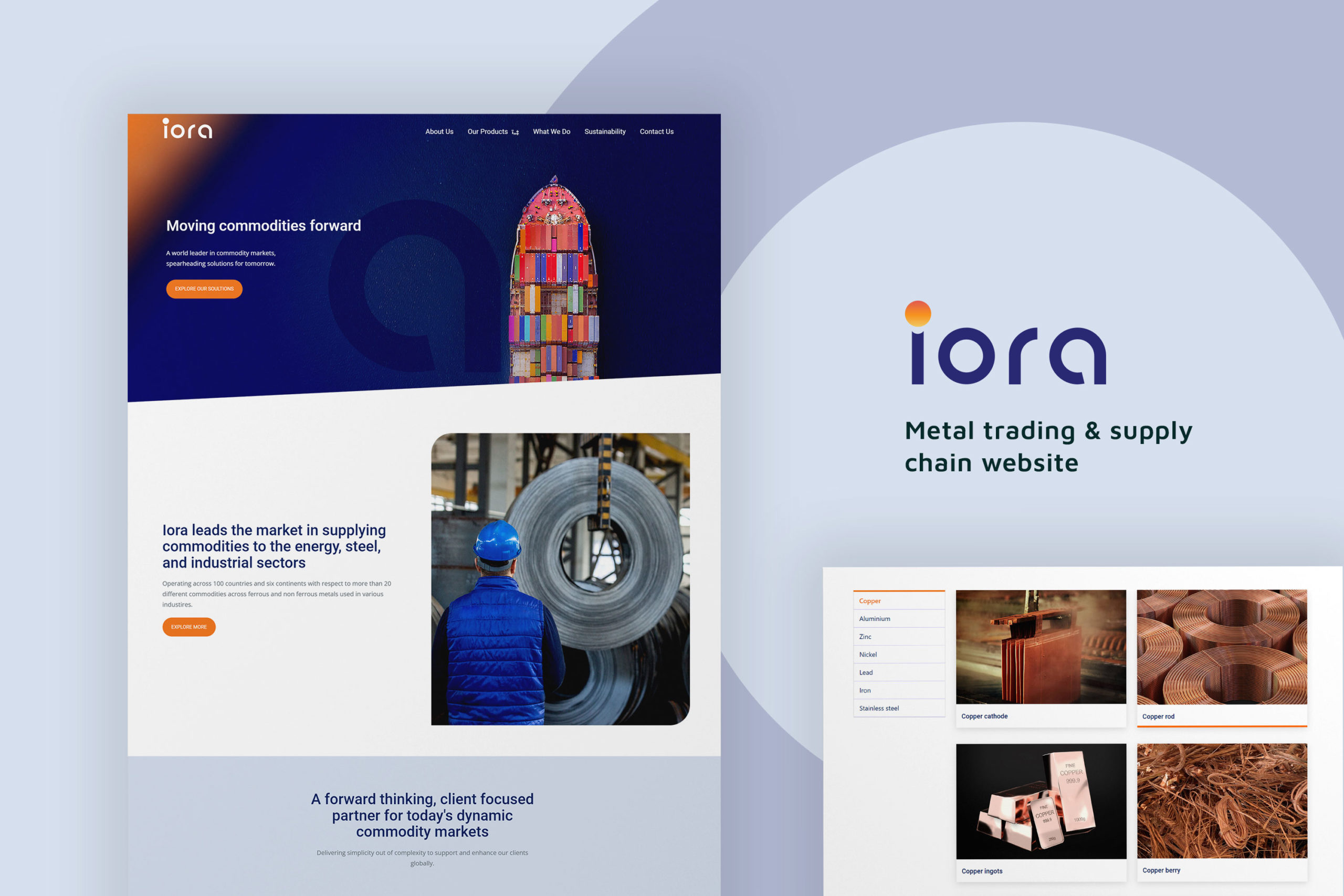 Case Study
About Client:
Iora is a distinguished multi-commodity trading company that prides itself on its extensive expertise in sourcing and trading various commodities. Their trading portfolio spans a wide range of industries, including ferrous and non-ferrous metals, chemicals, energy, pharmaceuticals, and more.
The company's unwavering commitment to excellence is reflected in its end-to-end integrated services that offer complete solutions to its customers at every stage of the supply chain.
In summary, Iora is a dynamic and innovative multi-commodity trading company that offers a comprehensive range of services to its clients. Their commitment to excellence, coupled with their industry expertise, cutting-edge technology, and integrated approach to supply chain management, sets them apart from their competitors, making them the go-to partner for sourcing and trading commodities.
Challenges:
Their esteemed client approached us with an urgent need to revamp their outdated website that had long been neglected and failed to align with their current vision. The old theme had become obsolete, and it lacked the necessary updates to reflect its evolving business objectives.
Many of their products were not included, further hindering their ability to drive sales and expand their customer base.
Their team of experts recognized the urgent need to overhaul the website, focusing on a user-centric approach that prioritized intuitive navigation, enhanced functionality, and visually appealing design. We took the time to understand the client's vision, unique brand identity, and business objectives, to create a website that was tailored to their specific needs.
Objective:
Their team's primary focus was on optimizing the overall site architecture and navigation, with the aim of enhancing the user's browsing experience and providing a seamless, frictionless journey. We recognized that a web site's architecture plays a vital role in guiding users toward their desired goals and increasing engagement. As such, we invested significant effort into ensuring Their client's site was designed with a user-centric approach.
To achieve this objective, we leveraged cutting-edge design principles and advanced technologies to provide Their client with a website that featured a sleek, modern look and feel while maintaining optimal functionality.
We have to work closely with Their client to ensure that their branding and messaging were consistently integrated throughout the site, creating a coherent and immersive experience for the user.
To achieve what they need we have to remain committed to providing Their clients with cutting-edge solutions that enable them to achieve their business objectives, driving growth, and success.
Solution:
At the core of this web design project was a deep understanding of our client's brand, products, and customers. We recognized that the key to creating a successful website was to focus on the content, showcasing the quality and craftsmanship of their products through a visually compelling and immersive experience. To achieve this objective, we worked collaboratively with our clients, leveraging their unique insights to create natural paths for website visitors to explore their many successful renovations.
The resulting website is a masterpiece of design and functionality, incorporating innovative features such as tiered views, unique architects, and immersive imagery. In conclusion, our team successfully delivered a website that reflects the client's brand, values, and vision while providing a world-class user experience. We remain committed to our clients, providing them with cutting-edge solutions that drive growth, success, and innovation. Our focus on content, design and functionality has enabled our clients to showcase their products to their fullest potential, driving engagement, sales, and customer satisfaction
Brand Colors and Typography