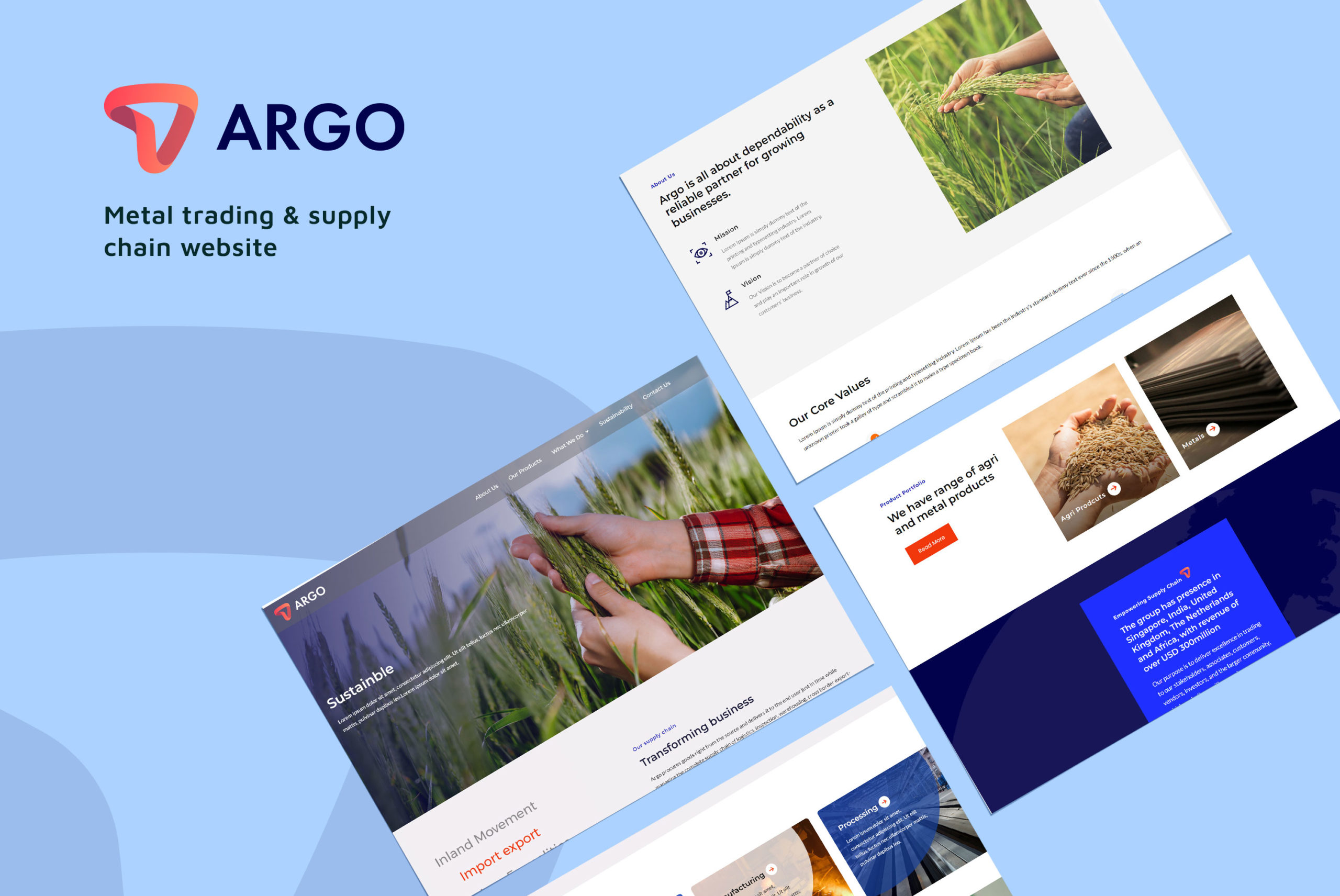 Industry
Agriculture, and Trading
Case Study
About Client:
At Argo, they pride on their ability to procure goods directly from the source and deliver them to their customers in a timely and efficient manner.
They manage the entire supply chain, from logistics and inspection to warehousing and cross-border export-import, ensuring that their customers receive the highest quality products at competitive prices. Their global presence in Singapore, India, United Kingdom, The Netherlands, and Africa, combined with their expertise and experience in the industry, has enabled us to generate revenue of over USD 300 million.
Argo is a leading multi-commodity trading company that is committed to providing its customers with the highest quality products and services. With a global presence, expertise, and experience, they are well-positioned to meet the needs of businesses across a wide range of industries. They are dedicated to innovation, excellence, and customer satisfaction, and they look forward to continuing to provide Their customers with the best possible solutions for their supply chain needs.
Challenges:
Bringing Argo's values, core, and business to life in the digital world was a significant challenge that we were eager to tackle. Without any previous website to reference, we knew that we had to start from scratch and create a digital presence that accurately reflected the company's position as a leader in metal trading and processing
Throughout the project, our focus was not just on creating a highly functional and smooth website, but also on capturing the essence of Argo's values, work, trust, and integrity. We understood the importance of accurately representing the company in the digital world and ensuring that its website accurately reflected its position as a trusted and respected player in the industry. Our team took great care to ensure that every aspect of the website, from the visuals to the content, accurately represented Argo's brand and its commitment to excellence.
Objective:
When we first began working on this project, we knew that the existing site architecture and navigation were creating a suboptimal browsing experience for users. Our main objective was to create a new and improved site architecture and navigation system that would enable easier browsing and a more frictionless experience for users. We understood the importance of creating a website that was not only visually appealing but also easy to navigate, so we focused on developing a user-friendly interface that would allow users to easily find the information they were looking for.
To achieve our objective, we undertook a comprehensive analysis of the existing site architecture and navigation system to identify areas for improvement. We worked closely with our client to understand their specific needs and goals, and we developed a new site architecture and navigation system that would meet these requirements.
Our main objective was to create a website that was both visually appealing and user-friendly. By improving the site architecture and navigation, we were able to create a more frictionless browsing experience that made it easier for users to find the information they were looking for.
Solution:
The revamped website is a masterpiece of design and functionality, seamlessly blending aesthetics with efficiency. Every aspect of the site has been meticulously crafted to reflect the quality and sophistication of the company's offerings. Website feels clean and professional, and is well presented to both the agricultural resources and to the value metal industry.
In addition to its stunning visual appeal, the website features a wealth of valuable content that speaks to the expertise and experience of the company. The product catalogue is a standout feature, offering a tiered view that enables users to quickly navigate to the items they need. This streamlined approach not only enhances the user experience but also helps to drive sales by making it easier for potential customers to find and purchase products.
Perhaps most impressive of all is the visual guide to the company's renovation process. This innovative feature allows visitors to experience the entire renovation timeline, from concept to completion. By providing an immersive, interactive look at the company's work, this visual guide helps to build trust and confidence with potential clients, while also showcasing the company's capabilities and expertise in a unique and engaging way.
Brand Colors and Typography