There are many Shopify plans outside which go well with different types of business. Here is a small guide for you to pick the best Shopify plans to go with.
 Firstly let's understand what Shopify is.
What is Shopify?
Simply put, Shopify is an application that allows you to build your online store.
It runs in a web browser — so, as long as you have internet access, you can use the platform from anywhere. In other words, you don't need to install software to use it, and because it's a 'hosted' solution, you don't need to worry about buying hosting either.
The precise functionality you get from Shopify depends on the pricing plan you opt for —We have discussed all these in-depth below — but all Shopify plans allow you to sell an unlimited number of products (digital or physical), and all but one allow you to pick a 'theme' that you can use as the basis of your store design.
For more, you can also have a look at some of the projects done by Emerge Digital and pick which suits you.
Types of Shopify Plans,
The Basic Shopify plan will allow you to see an immense number of products that would help your brand to give a clear picture to your audience. This is the cheapest and easiest available solution when you have a large number of products available.
This plan also includes "Abandoned Cart Recovery". Though, features like professional reports aren't covered.
Basic Shopify allows you to sell an unlimited number of products. This is the cheapest available solution when you have a vast product range. Shopify doesn't limit the number of products or file storage. This plan also contains "Abandoned Cart Recovery". However, features like professional reports aren't included. It's great to see that telephone support is already part of this plan.
The plan named Shopify is $50 more costly, but has a more contemptible credit card rate and provides more points. The rate charged for credit card payments is 0.3% lower and professional reports provide greater insight into your online store, making analysis more convenient.
In any case, you should review your Google Analytics before upgrading to this plan, it's free and will give you a good understanding of your online shop's performance.
This plan also includes gift cards though this feature can be added with an app in the much more affordable Shopify Basic plan.
Advanced Shopify is the most valuable plan. But therefore, the credit card payment rate is the lowest (see table) and it provides the best shipping conditions for the US. This plan is the only option if you need real-time carrier shipping, which means that the shipping cost is automatically calculated by a third party. Moreover, it has an excellent report builder that will allow you to customize your professional reports.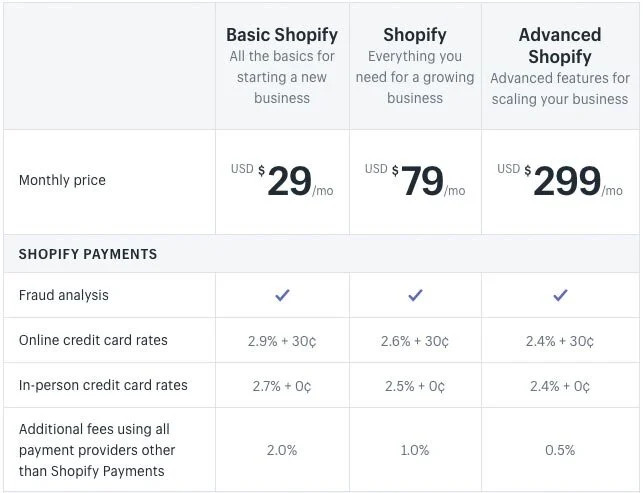 What are Shopify's transaction fees?
There are two different fees: the one that Shopify charges on your turnover (ranging from 0.5% to 2%) and another one, which is the payment gateway charges (such as Paypal, Stripe, or Authorize.net). Please note that there is no Shopify charge to manual payment methods such as cash on delivery or bank transfers.
Using Shopify payments
Costs for domain names
Monthly vs Yearly plans
Selling on Facebook
Embedding your products on another website
Shopify lite backend system.
Using Shopify Payments to avoid the Shopify fee
The good news is that the Shopify fee can be avoided by using Shopify Payments (available in the USA, UK, Australia & NZ, Canada, Ireland, Singapore, Germany, The Netherlands, Sweden, Spain, Italy, Japan, and a few others).
It's important to note that using Shopify Payments eliminates the Shopify fee, so even if your customers pay via e.g. Paypal or Amazon Pay, you won't be charged any additional fee by Shopify anymore. So if you can, you should always try to use Shopify Payments! There is no monthly cost and setup is free too.
Costs for domain names
Common to all Shopify plans is that no domain or email hosting is included. Shopify allows you to buy a domain name for $14 per year, but this still doesn't include any email hosting. To save a few bucks, we recommend that you compare these prices with a few external domain registrars (Namecheap, GoDaddy, etc.).
Furthermore, every plan allows you to add apps from the Shopify App Store or use a custom template. Most of these are available for free, but if you need a special feature, it could cost you extra. Therefore, we recommend that you test Shopify extensively during your free trial.
Monthly vs. yearly plans and cancellation
You can upgrade, downgrade or cancel Shopify anytime, provided you pay per month. If you want to minimize the financial burden, you should opt for a monthly plan – especially in the beginning. Afterward, you can upgrade to a long-term prepayment option to receive a significant price reduction
How Shopify can boost your Business growth within itself.
Mentioning a few of the points that you can try for your business and can make your business grow.
Selling on Facebook with Shopify Lite
If you are only interested in selling on Facebook and aren't bothered with creating a standalone store, then 'Shopify Lite' is a potentially good option — with a couple of clicks of a mouse you can publish all your products to your Facebook page, on a dedicated 'Shop' page.
One limitation of the Facebook integration to be aware of is that you can't use it to sell digital products, as I found out when trying to sell an e-book on the Style Factory Facebook page.
This is due to the fact that Facebook only permits you to sell something that can be shipped, thus ruling sales of digital products out — i.e., it's not technically a Shopify feature omission.
Embedding your products on another website with Shopify Lite
With 'Shopify Lite', you get a 'Buy Button' that lets you embed your products on another website.
This operates in a similar — but more complicated — way to Paypal, in that you add a snippet of code to your website and your product's details (photo, price, description, etc.) accompanied with an option to buy that product, appear on your site.
Once you've added a buy button to your website, any changes you make to relevant products in Shopify will be automatically updated on your site.
Using Shopify Lite as a backend system for a physical store
'Shopify Lite' is a fairly good choice for those who sell in physical locations and need a solution for processing payments and managing their inventory.
It allows you to accept payments via your smartphone using a card reader and the Shopify app; and every time you make a sale, Shopify will take a note of this and update your inventory accordingly, meaning you're unlikely to run out of funds when you need it most.
This syncing of real-world sales to an online selling platform also makes bookkeeping and accounting a bit easier.
However, it's important to note that the most comprehensive point-of-sale features are only available for an extra fee — via the 'Shopify POS Pro' add-on.
Content Credit – https://www.stylefactoryproductions.com/blog/shopify-fees